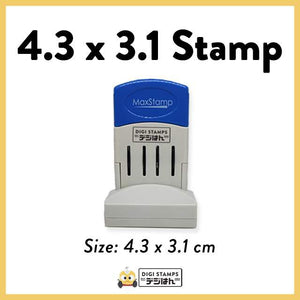 The 4.3 x 3.1 stamp is perfect for your personal and professional use. With the built-in dater, you can use it to stamp on documents, journals, and more.

FEATURES:
• Custom dater stamp
• Clear imprints of your chosen design
• Pre-inked stamp (approximately 200 imprints)
• Refillable with Digistamps inks (2cc or 5cc Ink ONLY.)

HOW TO ORDER:
• Please send us a message with your stamp details BEFORE placing an order.
• Once we have confirmed your stamp details (stamp content, case color, ink color, etc.), we will advise you to purchase the stamp model that best fits your needs.
• We will send you the stamp layout for your approval (please limit your revisions to two only.)
• ONLY CUSTOMERS WHO SEND THEIR STAMP INFORMATION FIRST AND HAVE PAID WILL BE PROCESSED!

PLEASE READ:

• Ink refills are sold separately.